Here are my July 2017 Book Reviews. Top book of the month, Stillhouse Lake by Rachel Caine
Stillhouse Lake by Rachel Caine
My rating: 4 of 5 stars
Very good. The pacing was good. Puts the reader in a grove and then kicks it up a notch to make it interesting. Similar to the tv show The Following.
Gina Royal is the definition of average—a shy Midwestern housewife with a happy marriage and two adorable children. But when a car accident reveals her husband's secret life as a serial killer, she must remake herself as Gwen Proctor—the ultimate warrior mom.
With her ex now in prison, Gwen has finally found refuge in a new home on remote Stillhouse Lake. Though still the target of stalkers and Internet trolls who think she had something to do with her husband's crimes, Gwen dares to think her kids can finally grow up in peace.
But just when she's starting to feel at ease in her new identity, a body turns up in the lake—and threatening letters start arriving from an all-too-familiar address. Gwen Proctor must keep friends close and enemies at bay to avoid being exposed—or watch her kids fall victim to a killer who takes pleasure in tormenting her. One thing is certain: she's learned how to fight evil. And she'll never stop.
---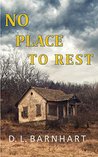 No Place To Rest by D.L. Barnhart
My rating: 3 of 5 stars
Was an interesting story. It bumbled along at times. Characters were interesting. Story would slow at timess.
Liz Crawford steps off the plane, home after six years in the space program and two in a Texas prison. She expects to be met by her sister, Sara, and to share her apartment, temporarily. Instead, she discovers Sara and two of her friends have vanished. The police are slow with answers, and Liz takes up the search, following the meandering trail of her sister's life. Along the way, she bends the law, risks her freedom and her life, and learns just what she is capable of in the most extreme
---
My rating: 3 of 5 stars
Thought it was going to be a spy like thriller. Was more of a mystery. Was confusing at the beginning. Chapter 2 indicates present day. Chapter 1 did not indicate what time it was starting at. Would find out in later chapters that it was 8 years from chapter 1 to 2. Time changes indicated in the book were correct for the rest of the book.
Was a good story. Left me intrigued.
Carl Logan dedicated nearly twenty years of his life to the Joint Intelligence Agency. Now living in a secret location, under the new identify of James Ryker, he wants nothing more than to be left alone, the chance to start a new life away from chaos, violence, destruction and deceit.
It's not long, however, before Ryker's short-lived idyll is destroyed when he is tracked down by Peter Winter, his ex-boss at the JIA. Winter brings with him news of the murder of a woman in Spain, Kim Walker, whose fingerprints match those of one of Ryker's former adversaries who's been missing presumed dead for years – an infamous female assassin known as the Red Cobra.
A cyberattack at the JIA led to the Red Cobra's profile being compromised, and Winter believes JIA agents may now be at risk too, Ryker included. But Ryker knew the elusive Red Cobra better than anyone, and when he sees the grisly pictures of Kim Walker's corpse, he has news for Winter – she isn't the assassin at all …
So just who is the mystery dead woman? And where is the real Red Cobra?
---
The Lucky Ones by Mark Edwards
My rating: 5 of 5 stars
Great book. Kept me guessing till the end. Loved the Characters!
It was the happiest day of her life. Little did she know it was also the last.
When a woman's body is found in the grounds of a ruined priory, Detective Imogen Evans realises she is dealing with a serial killer—a killer whose victims appear to die in a state of bliss, eyes open, smiles forever frozen on their faces.
A few miles away, single dad Ben Hofland believes his fortunes are changing at last. Forced to move back to the sleepy village where he grew up following the breakdown of his marriage, Ben finally finds work. What's more, the bullies who have been terrorising his son, Ollie, disappear. For the first time in months, Ben feels lucky.
But he is unaware that someone is watching him and Ollie. Someone who wants nothing but happiness for Ben.
Happiness…and death.
---
The Dark Prophecy by Rick Riordan
My rating: 4 of 5 stars
Great story. Tying history into Indianapolis was real interesting.
Zeus has punished his son Apollo–god of the sun, music, archery, poetry, and more–by casting him down to earth in the form of a gawky, acne-covered sixteen-year-old mortal named Lester. The only way Apollo can reclaim his rightful place on Mount Olympus is by restoring several Oracles that have gone dark. What is affecting the Oracles, and how can Apollo/Lester do anything about them without his powers?
After experiencing a series of dangerous–and frankly, humiliating–trials at Camp Half-Blood, Lester must now leave the relative safety of the demigod training ground and embark on a hair-raising journey across North America. Fortunately, what he lacks in godly graces he's gaining in new friendships–with heroes who will be very familiar to fans of the Percy Jackson and the Olympians and Heroes of Olympus series. Come along for what promises to be a harrowing, hilarious, and haiku-filled ride. . . .
---
Vermilion Drift by William Kent Krueger
My rating: 4 of 5 stars
Enjoyed the story! Could really feel Corks loneliness.
Some nights, Corcoran O'Connor dreams his father's death. William Kent Krueger's gripping tale of suspense begins with a recurring nightmare, a gun, and a wound in the earth so deep and horrific that it has a name, Vermilion Drift. When the Department of Energy puts an underground iron mine on its short list of potential sites for storage of nuclear waste, a barrage of protest erupts in Tamarack County, Minnesota, and Cork is hired as a security consultant. Deep in the mine during his first day on the job, Cork stumbles across a secret room that contains the remains of six murder victims. Five appear to be nearly half a century old;connected to what the media once dubbed "The Vanishings," a series of unsolved disappearances in the summer of 1964, when Cork's father was sheriff in Tamarack County. But the sixth has been dead less than a week. What's worse, two of the bodies;including the most recent victim;were killed using Cork's own gun, one handed down to him from his father. As Cork searches for answers, he must dig into his own past and that of his father, a well-respected man who harbored a ghastly truth. Time is running out, however. New threats surface, and unless Cork can unravel the tangled thread of clues quickly, more death is sure to come. Vermilion Drift is a powerful novel, filled with all the mystery and suspense for which Krueger has won so many awards. A poignant portrayal of the complexities of family life, it's also a sobering reminder that even those closest to our hearts can house the darkest,and deadliest, of secrets.
---
Everything We Left Behind by Kerry Lonsdale
My rating: 5 of 5 stars
Great book! Didn't realize it was part of a series. Can really feel the characters emotions.
Two months before his wedding, financial executive James Donato chased his trade-laundering brother Phil to Mexico, only to be lost at sea and presumed dead. Six and a half years later, he emerges from a dissociative fugue state to find he's been living in Oaxaca as artist Carlos Dominguez, widower and father of two sons, with his sister-in-law Natalya Hayes, a retired professional surfer, helping to keep his life afloat. But his fiancée, Aimee Tierney, the love of his life, has moved on. She's married and has a child of her own.
Devastated, James and his sons return to California. But Phil is scheduled for release from prison, and he's determined to find James, who witnessed something in Mexico that could land Phil back in confinement. Under mounting family pressure, James flees with his sons to Kauai, seeking refuge with Natalya. As James begins to unravel the mystery of his fractured identity, danger is never far behind, and Natalya may be the only person he can trust.
---
Northwest Angle by William Kent Krueger
My rating: 4 of 5 stars
Very good story. I always like the Cork books better from multiple POV's. Like how everyone has grown as characters.
With his family caught in the crosshairs of a group of brutal killers, detective Cork O'Connor must solve the murder of a young girl in the latest installment of William Kent Krueger's unforgettable New York Times bestselling series.
During a houseboat vacation on the remote Lake of the Woods, a violent gale sweeps through unexpectedly, stranding Cork and his daughter, Jenny, on a devastated island where the wind has ushered in a force far darker and more deadly than any storm.
Amid the wreckage, Cork and Jenny discover an old trapper's cabin where they find the body of a teenage girl. She wasn't killed by the storm, however; she'd been bound and tortured before she died. Whimpering sounds coming from outside the cabin lead them to a tangle of branches toppled by the vicious winds. Underneath the debris, they find a baby boy, hungry and dehydrated, but still very much alive. Powerful forces intent on securing the child pursue them to the isolated Northwest Angle, where it's impossible to tell who among the residents is in league with the devil. Cork understands that to save his family he must solve the puzzle of this mysterious child whom death follows like a shadow.
---
Justice Redeemed by Scott Pratt
My rating: 5 of 5 stars
Wonderful book! Very thrilling!
Two years ago, Darren Street made a name for himself as the man who rooted out corruption in the district attorney's office. Now the hotheaded young lawyer is in the public eye yet again—this time, accused of murder.
Jalen Jordan retained Street for what seemed to be a minor traffic violation, but when evidence turned up linking Jordan to the death of two boys, Street wanted out of the case. To ensure his lawyer's cooperation and silence, Jordan threatened to make Street's son the next victim. Shortly after, Jordan's own body turned up with a bullet hole in his chest.
Now Street is on trial for his life, and the enemy he made in the DA's office is clearly out for blood. It's one lawyer out to frame another. Can a desperate father escape punishment for a crime he didn't commit?
---
Save